Nature-Based Green infrastructure not only manages stormwater and makes our sewer system more resilient to a changing climate, it also reduces urban heat island effects, improves air quality, and makes our neighborhoods better able to adapt to future scenarios
---
Our Changing Climate
Buffalo New York is surrounded by large water bodies and resides along the eastern edge of Lake Erie. The influence of these water bodies, specifically Lake Erie and Lake Ontario, creates a climate consisting of extremely cold winters and hot summers. However due to climate change, these weather patterns are expected to shift. Total wet weather has increased by 14.9% since the 1950s and rain storms are likely to get more frequent and intense. Average air temperature has increased by 1.6˚F since the 1990s and may rise 3˚ to 5˚F by 2050.
---
Our Response
Buffalo Sewer Authority is leading the City of Buffalo's implementation of green infrastructure to respond to the climate crisis. Our Rain Check initiative leverages partnerships across multiple City departments and agencies as well as community groups and academic institutions. Together, we respond with collective action in ways that build community adaptive capacity, resilience, and advance environmental justice.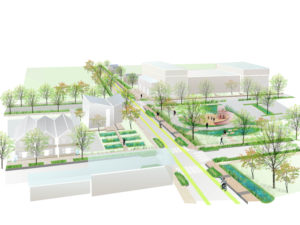 In moderate precipitation events with 1 inch or less of rain or snowmelt, stormwater flows into the combined sewer system and mixes with wastewater. This can lead to sewer overflow events where untreated water gets released into local waterways.
Green infrastructure is a great solution for moderate precipitation events. Most, if not all, of these events could be taken care of by techniques that absorb, collect, or divert water when it rains or snow melts.
When implemented on a neighborhood scale, green infrastructure increases green space and makes for a healthier community. Buffalo experiences several areas with little access to green space and green amenities such as street trees. Buffalo Sewer is finding ways to target these areas with a greater need in order to have a more equitable distribution of green infrastructure. Find out more in the Opportunity Report and Equity Analysis.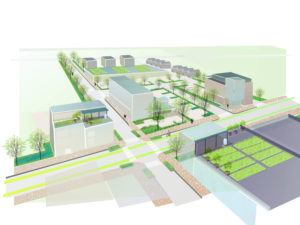 In extreme precipitation events with more than 1 inch of rain or snowmelt, large volumes of untreated stormwater runoff carrying pollutants from impervious surfaces drain into the combined sewer system, mixing with wastewater before being released into local waterways.
Green infrastructure can be a big part of the solution in extreme events. We also need to invest in underground infrastructure to prevent sewer overflows in extreme precipitation events. Buffalo Sewer has implemented several "smart sewers" that use real time control to slow flows within existing pipes.
Green infrastructure reduces climate change impacts by decreasing air temperatures, preserving water resources, and preventing urban flooding. Green infrastructure also helps preserve natural habitat and protects wildlife and ecological communities that may otherwise experience a loss of biodiversity from climate change. Green infrastructure is an effective strategy and tool for equitable planning because surrounding communities also benefit from increased green space and physical wellbeing from an enhanced environment.
---
Answer some questions to help Buffalo Sewer understand your thoughts on climate change and guide our future work